We are publishing the following:
* Books (stories, novels, poetry, fairy tales, songs, weddings, memories, photos, etc.);

* Calendars;
* Business cards;
* Flyers;
* Notebooks;
* Newspapers.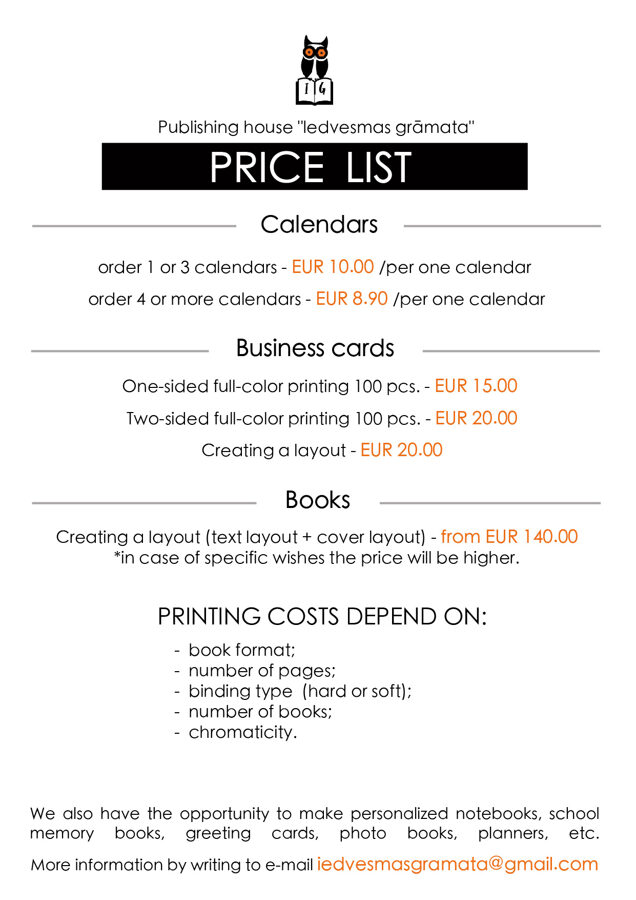 Calendars:
You will need a total of 13 pictures - each month needs one (or a collage) and a picture for a cover (cover can be made as a collage from calendar pictures).
Pictures need to be sent to an email: iedvesmasgramata@gmail.com (it is preferable to point out which picture is for every month). Calendar format: A3, dates with name-days and celebration days (possibility to mark up to 10 special dates) One calendar price is 10 euros, if you will order 4 or more, the price will be 8.90 euros per calendar. When sending the pictures for calendar, please notice that the calendars will be in A3 format, in which more than A4 format will be occupied with picture, so please send in large, good quality pictures! In order to make calendar look more than good, it is better to send in pictures in horizontal format! Please note that we do not take back any of made calendars and money is not returned!